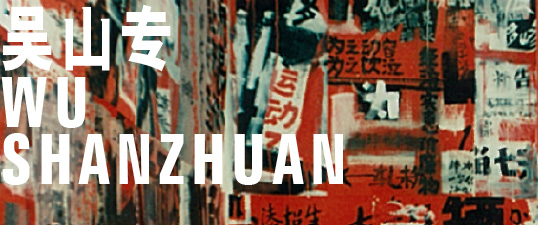 Wu Shanzhuan (b. 1960, Zhoushan, Zhejiang Province) graduated from the Zhejiang Academy of Fine Arts (now the China Academy of Art) in 1986.
Upon graduation Wu returned to Zhoushan to work at the Mass Culture Institute. In 1986, he created the work 75%Red 20%Black 5%White with Ni Haifeng and Zhang Haizhou. In 1989, Wu's participation in the 'China/Avant-Garde Exhibition' included a performance inside the National Art Museum in Beijing in which he sold frozen shrimp brought from Zhoushan to members of the public.
Wu moved to Iceland in 1990, and later pursued graduate studies in Hochschule für Bildende Künste, Hamburg (University of Fine Arts of Hamburg). Now residing in Shanghai, Wu began collaborating with his artist wife, Inga Svala Thorsdootir in 1991. A major retrospective on Wu's work was held at the Guangdong Museum of Art in 2008.
In 2003, Wu donated a significant amount of documentary materials to AAA, including images of his early works, poetry and manuscripts of a novel from the 1980s. A selection of these materials is presented here. In 2005, AAA published Wu Shanzhuan Red Humour International.